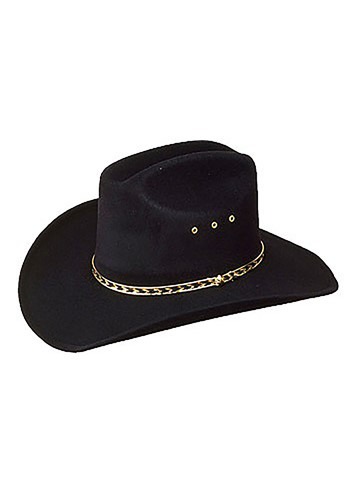 Oversized item. Surcharges may apply. Details

Surcharge for Oversized Products

Due to the size and weight of some products, an additional surcharge is applied when these products are shipped.

The additional handling fee is added to your shipping charges upon checkout.
Product Description
A cowboy without a hat? That's like a horse without a saddle; kind of naked looking and not much good to anybody. That's like a range without grass; kind of naked looking and not much good to nobody. That's like a saloon without a barkeep; kind of naked looking and...
Oh, you get it. Sorry 'bout that. Anyway, we've been lookin' out for ya, and we figure this here black cowboy hat combined with your cowboy costume could very well convince your friends that you belong out on the open range, tamin' wild steeds, winnin' round after round of Texas Hold 'Em at all them spots 'till they keep you out, and in general enjoyin' all the Wild West that nature has to offer. Well... at the very least it will fix a bad hair day. We can't really say about the rest of that; we wouldn't shake on it, anyway. But it's a good hat, we promise.
Black hat, felt texture

Gold and black trim around the crown

Elastic interior for a secure fit
Faux Felt Black Cowboy Hat
There are no reviews for this item yet. Be the first to write a review!
---