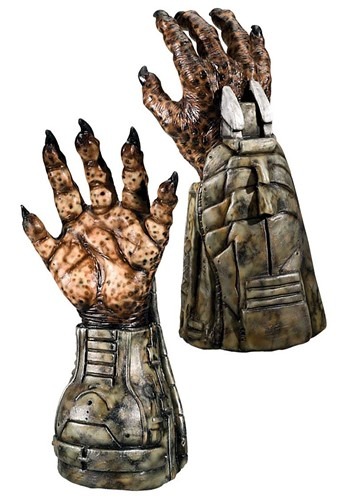 Product Description
There are certain times when the highest level of authenticity is a little too high. Like if you really wanted to convince people that you were the Predator, you'd want to use a cloaking device to make yourself almost totally invisible. But then how would people appreciate the super-awesome costume you were wearing underneath? Deep in the jungle there is something that is hiding in plain sight. A vicious killing machine that can make himself invisible while he stalks his prey... humans!
Now you can give your Predator costume the final touch when you get these deluxe latex hands. They look just like the Predator's hands as seen in the classic films. You will terrify everyone at the party, even when you do jazz hands with these Predator gloves!
Rubber latex gloves

Molded to look like the Predator's hands and guantlets
There are no reviews for this item yet. Be the first to write a review!
---